Rusty's last call
I hold this truth to be self-evident: everyone has a Secret Redneck lurking inside. Mine loves Southern food and NASCAR. Well, maybe not as much since they kicked out Winston and changed the rules, but anyway, I digress. I have been a
Rusty Wallace
fan since I knew who he was and especially the MGD black and gold paint scheme. I've even seen him drive, although I've never actually braved a race. He was testing at Indianapolis (the first stock car to drive on the track) the day I visited the speedway. Talk about luck! Sadly, as with all things, Rusty's career is coming to an end and this year will be sort of a victory lap for him.
To honor his achievements (and all around good guy status in NASCAR..... yes, like wrestling NASCAR has good guys and bad guys), his long time sponsor Miller has sponsored the Rusty's Last Call tour, complete with specialized paint job: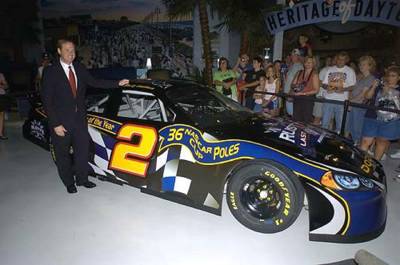 Awesome. It's nice to see the black and gold back for the last year.
(h/t a certain
large dairy beverage
)