Don't be a Turkey
Happy Thanksgiving everyone!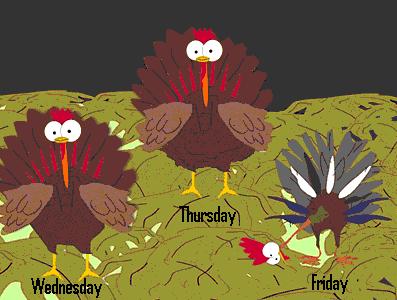 Wishing everyone a holiday stuffed full of fun! (apologies to Matt and Trey and Gobbles)
I'm thankful for so many things this year, listing them won't do them justice, but I would like to share my (selfish) top 3:
#3: "well, as long as you're waiting for animals, you might as well start writing your thesis"
#2: "It's an epilus, a benign cyst. They're common in dogs like her"
and...
#1: "Dear Mr. Caltechgirl's Husband, As you no longer have any military status..."
Holiday Posting commences Friday. Those of you who know me in the real world know that I am a Christmas wacko, and I'm planning on extending that to the blog as well....
Update: Dean reminded me of something else I'm thankful for.
Thanks, Tony
!